Customizable Rosaries for Shrines and Cathedrals
Some of the most popular Catholic destinations and pilgrimage sites are Marian Shrines, Cathedrals, Shrines dedicated to Saints, and historic Basilicas.
And a popular stop at these holy places of worship — the Gift Shop! Visitors love to purchase a special, unique memento of their visit. Like a rosary. Ghirelli's keepsake customizable rosaries for Shrines and Cathedrals are extremely popular items among store patrons. Why? Because we are able to replicate — in amazing detail — the aesthetic, artistic, architectural or historic elements into the design of the components of each and every rosary.
These are rosaries your customers will not be able to purchase anywhere else! According to our Shrine and Cathedral clients, they can't keep their exclusive customizable rosaries created by Ghirelli on their shelves!
If you're ready to see what your beautiful holy place of Catholic worship looks like on a customizable rosary, contact us today at 800-214-1365 or send us a message.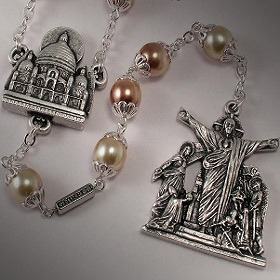 Like What You See?
Give us a call today and let's get started on your unique, beautiful custom rosary!
Contact Us