Perfect Graduation Gifts for Catholic Students
You can bet there's a lot of praying going on at Catholic high schools, and college, university and seminary campuses.
With all the pressures demanded on today's Catholic student, a good conversation with Our Holy Mother every now and again will do wonders for a student's peace of mind. The rosary is a perfect prayer devotion, and a great way to spend a half hour with someone who knows exactly what students need — and the perfect person who has a great deal of influence with her perfect Son.
Ghirelli's custom rosaries for Catholic students integrate many of the elements found in and around campus. Perhaps, the Bell Tower. Or, the Crucifix that hangs at the Chapel altar. Your school's mascot or crest? Maybe there's a statue of Our Blessed Mother near the union? Of course, we can match the beads with your school colors.
The options are endless! What's important is that we will create a custom rosary that students will cherish throughout their entire lives. It will be a memorable keepsake that will remind them of a special — and, hopefully, not too difficult — time in their lives. It's like a class ring … but for both hands!
Catholic students will purchase one for themselves. Parents and grandparents will purchase them as Graduations gifts for their special students. Alumni and benefactors will purchase these custom rosaries to support the school.
Let's explore the possibilities. Give us a call at 800-214-1365 or submit our contact form today.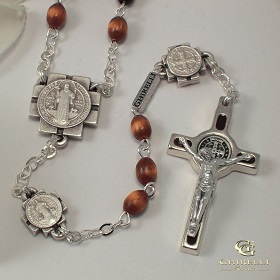 Like What You See?
Give us a call today and let's get started on your unique, beautiful custom rosary!
Contact Us