Catholic Church Rosary for Parishes, Groups & Organizations
One of Our Lady's 15 Promises of praying the Holy Rosary is a deeper relationship with her Son. As Catholics, we are called into deeper discipleship with Christ and invited to actively share His Good News. Participating in a parish, group or organization, is putting our faith into action.
A custom Catholic Church rosary from Ghirelli will help your parish, group or organization achieve its goals. For parishes, a custom rosary can be part of a Welcome Package to new parishioners. A custom rosary can also encourage donations for large renovation projects. Is your organization or group celebrating a milestone? A custom rosary is a great way to thank your benefactors!
There are many way to integrate a custom rosary from Ghirelli into your plans. Let's talk: 800-214-1365 or fill out our form and submit it today.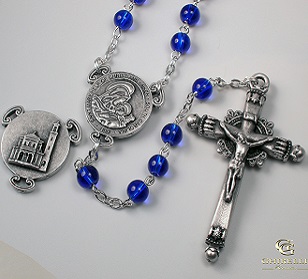 Like What You See?
Give us a call today and let's get started on your unique, beautiful custom rosary!
Contact Us