Catholic Mission Rosary for Missionary Associations
Ghirelli is blessed to be a provider of custom Catholic mission rosary creations for many missionary associations throughout the world, including Aid To The Church In Need and the Missionary Oblates of Mary Immaculate.
Our mission rosaries help generate and increase awareness, support and donations so these ministries can continue to meet the demands of those whom they serve.
We're grateful to be a part of their mission — and we'd welcome the opportunity to be a part of yours!
We will design a custom rosary that embodies the message you wish to spread — and one that exceeds your goals. It can be a themed rosary that matches a specific appeal focus, or it can integrate the message of a special saint. The possibilities are endless!
Let's explore them together. Call us at 800-214-1365 or send us a message today.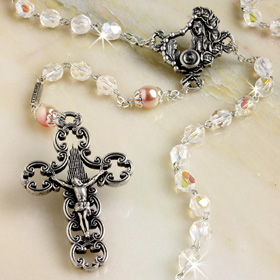 Like What You See?
Give us a call today and let's get started on your unique, beautiful custom rosary!
Contact Us