GHIRELLI ROSARIES
Twenty-five years in the making.
Evident throughout our product line is our great love for the Rosary. You will likely recognize the unique reverence in every detail of each piece. Our ultimate goal is to create a unity between the spiritual message and the Rosary itself. Through inspired design we strive to make each singular detail a visible characteristic of the mystery which is being contemplated.
Ghirelli Rosaries: 25 years in the making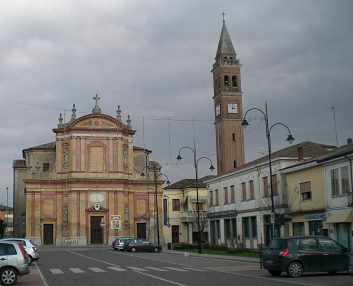 Every Rosary from Ghirelli, now a quarter century-old, is conceived and created entirely in Italy — thus preserving our independence and philosophy — and remaining true to our native Italian style and elegance.
Ghirelli has been blessed to design the gift rosaries donated by our last three Holy Fathers during their apostolic journeys and audiences. In addition, we have designed the Rosary Collections of the Vatican Museums, the Cathedral of Notre Dame in Paris, and the International Shrine of Fatima, just to mention a few of our collaborations.
We have also received prestigious recognition from such commercially-renowned names as Swarovski®, who put the Ghirelli Collections on display at their Swarovski Creative Center in Milan, and so honoring us for innovative design. These Collections are now made entirely — for the first time — with their matchless crystal. You will find them in our catalog in the section "Ghirelli Precious Collection."
A Rosary like no other
For us, the Rosary is not merely an object but a creative act, conceived as a useful aid in meditation and prayer. For this reason we sign each piece with our name — a simple but secure way to confirm their originality, while protecting you against the continuous acts of counterfeit occurring in a market sector that has become marked by lack of ethics and professionalism. This decision is in line with the spirit and the values derived from our deep Catholic Faith, values shared both in our family and by everyone in our company. Our focus remains on each single choice, each individual person and their dignity. Promotion of a solid work ethic, esteem for the market, and respect for people are the unwavering values we believe in and maintain.
"Art means revealing God in everything that exists." These words from Herman Hesse have inspired our creative commitment to you.
Welcome to our Family. Welcome to the world of Ghirelli Rosaries.
Alessandro & Cinzia Ghirelli and Family